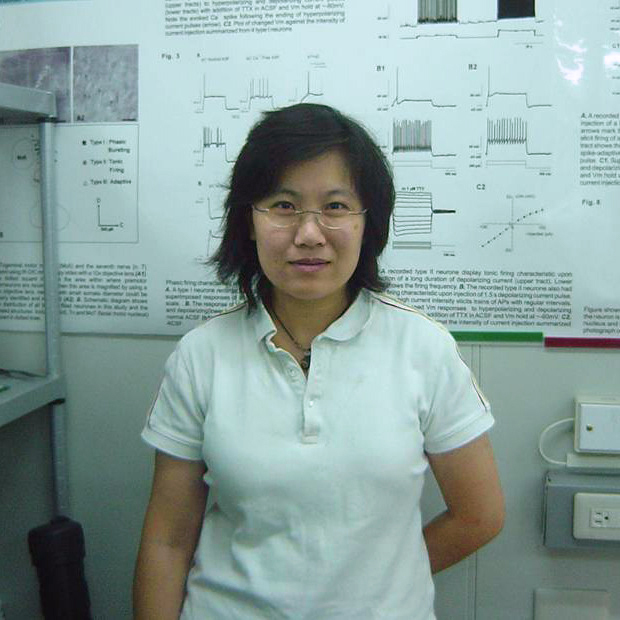 Hsiu-Wen Yang
(Professor; Ph. D)
Phone
Tel:886-4-2473-0022 ext 12338
E-mail
hwy@csmu.edu.tw
Interests in Research
Regulation of circadian firing of noradrenergic neurons in locus coeruleus.
The firing pattern GABAergic trigeminal premotor neurons and its role in mastication.
Publications (at most 7 publications in recent 5 years)
Li MJ#, Chang TW#, Hung WC, Wu CY, Luo YC, Chang TH, Lin C, Yang CS, Yang HW*, Min MY*. (2016) Cholinergic and glutamatergic transmission at synapses between pedunculopotine tegmental nucleus axonal terminals and A7 catecholamine cell group noradrenergic neurons in the rat. Neuropharmacology 110: 237-250. (SCI)
Wang HY, Kuo ZC, Fu YS, Chen RF, Min MY, Yang HW*. (2015) GABAB receptor-mediated tonic inhibition regulates the spontaneous firing of locus coeruleus neurons in developing rats and in citalopram-treated rats. J. Physiol. (London) 593(1): 161-180. (SCI)
Liu CY#, Lee ML#, Yang CS, Chen CM, Min MY, Yang HW*. (2015) Morphological and physiological evidence of a synaptic connection between the lateral parabrachial nucleus and neurons in the A7 catecholamine cell group in rats. J. Biomed. Sci. 22:79-88. (SCI)

Hsu CL*, Yang HW, Yen CT, Min MY. (2012) A requirement of low-threshold calcium spike for induction of spike-timing-dependent plasticity at corticothalamic synapses on relay neurons in the ventrobasal nucleus of rat thalamus. Chinese J. Physiol. 55(6): 380-389.